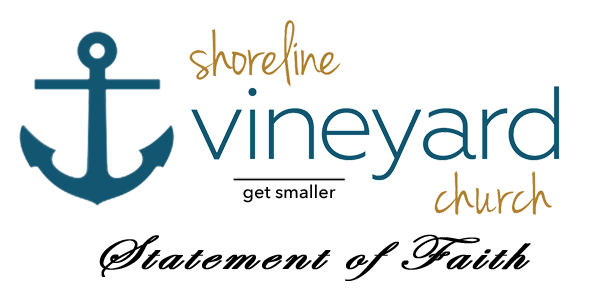 The foundation of everything we believe at Shoreline Vineyard Church is found in scriptures. Some interpret scripture differently, so we have presented our beliefs here.
WE BELIEVE that there is ONE LIVING AND TRUE GOD, eternally existing in three persons, the Father, the Son and the Holy Spirit, equal in power and glory that this triune God created all, upholds all, and governs all. (Matt. 28:19, Isa. 40:12-26, Isa. 46:8-11)
WE BELIEVE that the SCRIPTURES of the Old and New Testaments are the Word of God, fully inspired, and the infallible rule of faith and practice; and that they are to be interpreted according to their context and purpose and in reverent obedience to the Lord who speaks through them in living power. (2 Tim. 3:14-17, Rom. 15:4, James 1:22)
WE BELIEVE in GOD THE FATHER, an infinite, personal Spirit, perfect in holiness, wisdom, power, and love; that He concerns Himself merciful in the affairs of men; that He hears and answers prayer, and that He saves from sin and death and all who come to Him through Jesus Christ. (Matt. 6:9, Isa. 6:3, Rom. 11:33-39, Psalms 138:5-6, Matt. 7:11, Isa. 55:6-7)
WE BELIEVE in JESUS CHRIST, God's only begotten Son, conceived by the Holy Spirit. We believe in His virgin birth, sinless life, miracles and teachings, His substitutionary atoning death, bodily resurrection, ascension into heaven, perpetual intercession for His people and personal, visible return to earth. We believe that in His first coming Jesus inaugurated the fulfillment of the Kingdom of God. (John 1:14-18, Luke 1:18-20, Heb. 4:15, Rom. 5:8, 1 Cor. 15:1-8, Eph. 1:20, 1 Thess. 4:16, Mark 1:14-15)
WE BELIEVE in the HOLY SPIRIT, who came forth from the Father and Son to convict the world of sin, righteousness, and judgment, and to regenerate, sanctify and empower for ministry all who believe in Christ; we believe the Holy spirit indwells every believer in Jesus Christ and that He is an abiding helper, Teacher, and Guide. We believe in the present ministry of the Holy Spirit and in the exercise of all the biblical gifts of the Spirit. (John 15:26, 16:8, Titus 3:5, Acts 1:8, Rom. 8:9, Eph. 1:13, John 14:16, 1 Cor. 12:4-11)
WE BELIEVE that all PEOPLE are sinners by nature and choice and are therefore under condemnation, that God regenerates and baptizes by the Holy Spirit those who repent of their sins and confess Jesus Christ as Lord. (Eph. 2:1-10, Acts 2:38, Ezek. 36:26, John 1:12-13, John 20:9)
WE BELIEVE in the universal CHURCH, the living spiritual body, of which Christ is the Head and all regenerated persons are members. (1 Cor. 12:12-13, Eph. 2:19-22, 1 Peter 2:4-5)
WE BELIEVE that the Lord Jesus Christ committed two ORDINANCES to the church: baptism; and the Lord's Supper. We believe in water baptism and communion open to all believers. (Acts 2:38, 1 Cor. 11:23-30, Luke 3:3)
WE BELIEVE also in the LAYING ON OF HANDS for empowering of the Holy Spirit, for receiving of gifts of the Spirit, for healing, and for recognition and empowering of those whom God has ordained to lead and serve the church. (Acts 13:3, Mark 6:5, 1 Tim. 4:14, 2 Tim. 1:6)
WE BELIEVE in the personal, visible APPEARING OF CHRIST to earth and the consummation of His Kingdom; in the resurrection of the body, the final judgment and eternal blessing of the righteous and the eternal punishment of the wicked. (Acts 1:11, Matt. 25:31,
1 Cor.15:20-24, Rev. 20:11, Rev. 21:8)
WE BELIEVE in what is termed "THE APOSTLES' CREED" as embodying fundamental facts of Christian faith, and endorse the historic orthodox creeds of the Church.

Shoreline Vineyard Church is part of the Vineyard USA movement of churches. Below you will find the core values applicable to all Vineyard churches.  
We value THE PURSUIT OF GOD. We are hungry to know God's presence, hear His voice and follow hard after Him. (Psalm 63:1-3)
We value SIMPLICITY. We wish to do nothing for "religious effect" but rather to operate in natural low-key, non-hype patterns. We desire to do the ministry of Christ with joy.(Philippians 4:4)
We value the MERCY OF GOD. We believe that mercy is fundamental to all that God does in salvation. We, therefore, aim to extend mercy to one another and to all to whom we minister. (Colossians 3:12,13)
We value REALITY. We aim to walk in the Spirit and see real supernatural works of God. We aim also to function on the natural plane based on God's leading in conjunction with excellent, rational thinking. (James 1:5)
We value CHRISTLIKENESS. We desire that through the power of the Holy Spirit, Jesus' love, mercy, grace, truth, purity, power, and integrity would shine through all that we are and do. (Ephesians 5:2)
We value UNITY. We are convinced that all who belong to Christ are one in His Body, the Church. We aim to maintain unity by honoring all who call on Jesus' name and by seeking reconciliation with all parts of the Church. (John 17:21-23)
We value COLLABORATIVE RELATIONSHIPS. We are honored by every person whom God adds to the Vineyard. We aim to work together to build the Church through maintaining mutual respect, open communication, determined cooperation, and believing and speaking the best about each other. (I Corinthians 13:4-7)
We value PRAYER. We believe that prayer is essential, because it is our primary means of communion with God, and because it is God's primary means of accomplishing His purposes in the world. (1Thess. 5:16-18; Philippians 4:6)
We value BEING SPIRIT-LED. We honor Jesus as our Head and the Holy Spirit as our Counselor. We seek to be responsive to the Holy Spirit in life and ministry. (Galatians 5:5; Romans 8:14)
We value SERVANT LEADERSHIP. We believe that Christ has put significant leadership authority in the hands of the pastor and associates. We aim to exercise that authority with humility, selflessness, grace, care for the sheep, and a sincere desire to build up the Body of Christ. (Mark 10:37,44-45)